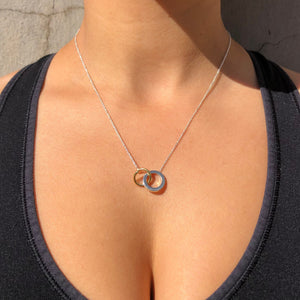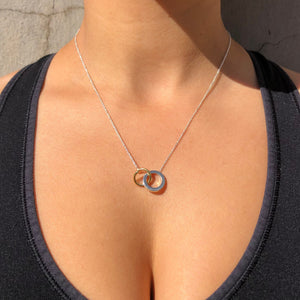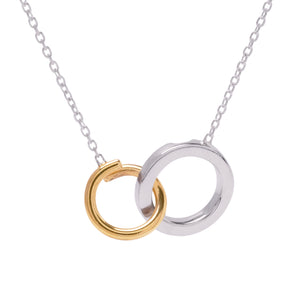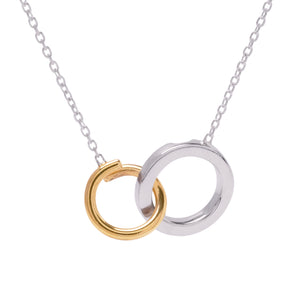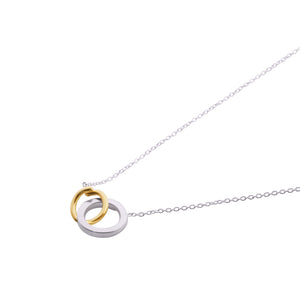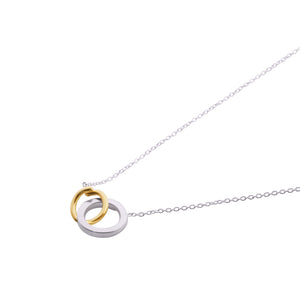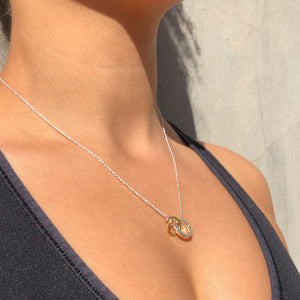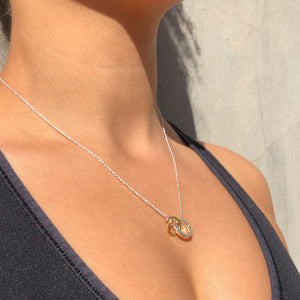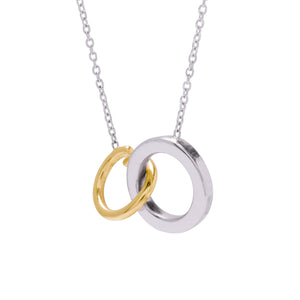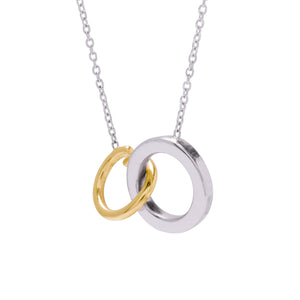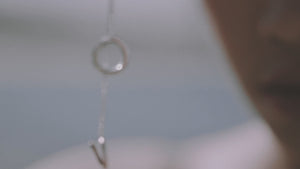 On Sale
Signature Necklace - Yellow Gold
Description:
Being mixed is an experience shared by many, but discussed by few. Often, we find ourselves seeking balance and resolution - a battle that can be both isolating and unifying given our disparate backgrounds.
This necklace represents the duality of the mixed experience. Though the rings are different in color, shape, and size, they are joined at the front clasp. The juxtaposition represented by the rings is what makes the necklace beautifully unique, just like you.
Proudly wear your mixed identity because you are Perfectly Mixed & Imperfectly Connected to a community that embraces and accepts you for YOU.
Information & Fit:
Length: 18 inches
Materials: Both rings are made from solid 925 sterling silver. The smaller ring is finished in 14k yellow gold.
Size: 
-Ring 1 (Silver): Diameter - 12mm, Thickness - 2mm
-Ring 2 (Yellow Gold): Diameter - 10mm, Thickness - 1.5mm
Customer Reviews
03/01/2021
Marisa H.

United States
Perfectly Mixed!
Obsessed with this necklace and everything it stands for! I get so many compliments and am excited to share the Mixed Millenial story with my friends and others
EC
01/31/2021
Elizabeth C.

United States
Wear Statements, Not Labels
I love the ideas that this necklace supports. The simple design is beautiful and the meaning carries on through the simple communication between the rings.
12/03/2020
Lindsay S.

United States
LOVE LOVE LOVE!
I'm obsessed with this necklace! The front clasp is not only stylish, but a game changer, and it's beautiful quality. I'm purchasing two more to gift over the holidays! Definitely recommend!
12/03/2020
Rachel W.

United States
Super Cute & Great Quality
I've received so many compliments on this necklace. Great quality, super trendy and goes with everything. I'm always looking for two-tone pieces, this pulls all my jewelry together.
10/11/2020
Kayla K.

United States
Elegant, Classic, and Meaningful
I love, love, LOVE what this gorgeous necklace represents. Moreover, it's beautifully designed and is thoughtfully packaged, making it a great gift idea for the holidays. I especially appreciate the unique way you put on and take off the necklace in the front — no more worrying about clasps breaking! Overall, I highly recommend this.
10/12/2020
Mixed Millennial
We're so glad you love the unique front clasp & the meaning behind the design! Thank you so much for the review, Kayla :)